intelliDock
intelliDock is the ideal docking solution for today's high-density, high-force, tri-temp applications.
The inTEST EMS intelliDock is a fully automated docking system that is simple to use and provides operator feedback for each step via a touchscreen display. The intelligent pin and cup design provides real-time feedback of the docking position. Each module cup independently measures the distance the pin is located from the hard stop and provides a method to measure the planarity of the four docking pins relative to each other.
A more efficient way to securely dock a test head to the prober/handler to repeatability within 20 um in X, Y, and Z.
Key Features

Intelligent pin and cup docking with real-time feedback of docking position

Automatic, accurate capture feature allows the latching of each pin

When using an inTEST EMS Manipulator, overdrive protection is integrated between the manipulator movement and module cup, preventing damage to your electrical interface components

Micron-level repeatability in X, Y, and Z

Operator touchscreen control with two buttons: Dock and Undock

Provides real-time status to the operator with icon indicators for undocked, captured (pre-dock), and docked states

Display screen can be placed in multiple locations around the test head


Compatible Testers
The intelliDock docking system can be integrated to communicate with any of the industry-standard testers,
handlers, or probers for an automated docking process.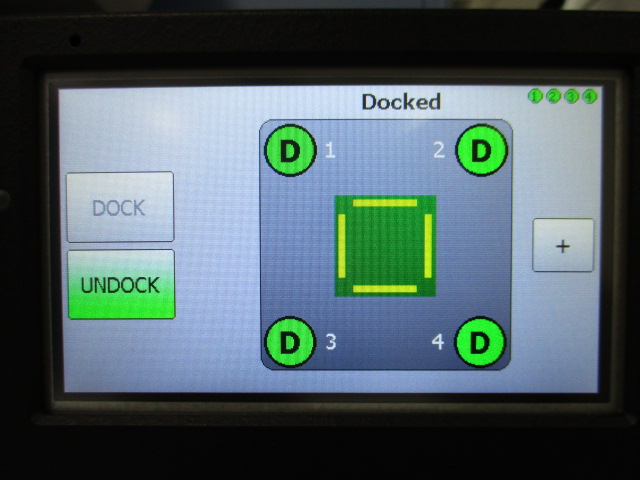 Intelligent Control & Display
The display provides actual docking mechanism position feedback to assure accuracy, planarity, and repeatability. Icon indicators for Undocked, Captured (Pre-Dock), and docked states.
The intelliDock can be adapted to mount to different test heads, probers, and handlers and is also compatible with inTEST EMS designed manipulators and test interface products for seamless MDI (Manipulator, Docking, Interface) integration.
Technical Specifications
Each module and mating pin is pre-aligned to the docking plate. No calibration is required.
Repeatability
Repeatability in X, Y, and Z axes is +/- 20 um (.0008")
Module rating
Each module rated at 115 kg. (250 lbs.) of docking force at 85 PSI/586 kPa
Standard 4 point dock
Rated at 450 kgf (1,000 lbf) at 85 PSI/586 kPa
High Force 4 point dock
Rated at 680 kgf (1,500 lbf) at 85 PSI/586 kPA
Docking pin adjustment
Each pin can be adjusted up to 6.35mm (.25") using the fixed dimension shim kit
Facilities Requirements

Electrical: 110/230 VAC @ 10 Amps

CDA: 70-100 PSI @ 1 SCFM

*85-100 PSI for full load capacity