Join our team
inTEST EMS is looking for motivated individuals to join our team. With us, you will have the opportunity to grow and contribute to the success of our growing high-tech business. We proudly design and manufacture Manipulator, Docking and Interface products, delivering solutions globally to semiconductor leaders.
Comprehensive Benefits Package and Perks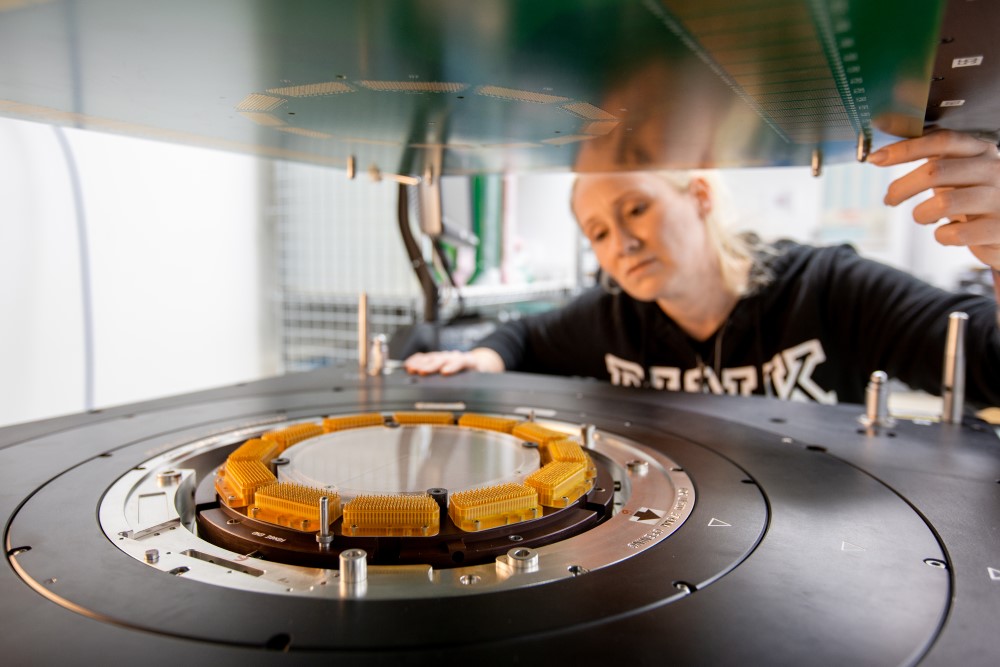 Company sponsored Health & Dental care - 80% company-paid

Fully paid Life Insurance and Long-Term Disability

Health Savings Accounts/Flexible Spending Accounts

401k program that includes a company match

Company Profit-Sharing Plan

Vacation, Sick, and company holidays

Educational assistance

Company events, including holiday parties, picnics, ice cream truck visits, lunches, and much more
Our high-performing team, top-notch benefits, great culture, modern facilities, and exciting industry make inTEST EMS a great place to work.
Equal Opportunity Employer
inTEST Corporation is an Equal Opportunity Employer and considers applicants for all positions without regard to race, color, creed, religion, ancestry, national origin, age, gender identity, sex, marital status, sexual orientation, physical or mental disability, use of a guide dog or service animal, military/veteran status, citizenship status, basis of genetic information, or any other group protected by law.
Open Positions
JOB SUMMARY:
Sr. Buyer is responsible of sourcing, negotiating, and buying of good materials and services to meet Company's operational requirements. The overall purpose of the role is to purchase goods, materials, and services to ensure that the company operational needs are met, taking into account price, quality and delivery to ensure continuity of supply.
DIMENSIONS:
Standard work environment
Majority of time spent on PC (Phys. Req.)
Possible travel required 10%
JOB ACCOUNTABILITIES:
Understand and Adhere to all Policies to include but not limited to inTEST Code of Ethics, Safety and Information Security.
Purchases quality products at competitive prices in approved quantities.
Prepare inquiries and purchase orders from requisitions, and manage purchase order statuses, for goods and services related to repairs and maintenance, operating supplies, and other categories.
Ensure relevant information (delivery date, price…) are kept current in the MRP system for all open orders and communicate changes to Planning and Operations management team.
Ensure that material is delivered in time to meet the published production schedule and clearly communicate all items that will not meet the schedule.
Maintain records of purchase commitments, material costs, follow-up and expedite delivery of critical items by phone, electronic mail, or personal visit to vendor's location.
Takes appropriate actions according to company procedures with defective products
Interface with Engineering, customers, and suppliers (domestic & international) on quality issues
Maintain, implement, and monitor supplier control system, including Material Review Boards (MRBs) and Supplier Corrective Action Request
Drive corrective action programs with suppliers to improve performance.
Sources (international & domestic), researches and evaluates suppliers based on requirements [price, quality, selection, availability, service, support, reliability, production and distribution]
Audit existing and potential suppliers.
Develop proposed sourcing strategies for assigned commodities.
Develop and maintain records of supplier's capacity and capability
Use metrics to track supplier performance
Develops strategic purchasing programs based on sales records and inventory levels
Determine need, best quantity, and delivery schedule for assigned commodities
Monitors and reports on supply and demand, tracking market conditions, price and market trends.
Put forth a commitment to excellence while maintaining a positive, proactive, and humbly confident demeanor
Responsible for timely follow up communication
Regular attendance and participation in meetings as required
Performs other duties as assigned
MINIMUM JOB QUALIFICATIONS:
5 or more years of buying/procurement experience in a manufacturing related industry; required
Manufacturing/machine shop purchasing experience; strongly preferred
Knowledge of CNC and manual machining centers; preferred
Knowledge of metallurgy properties preferred
Knowledge of electrical finishing (Anodize, Nickel, Paint); preferred
Inventory, manufacturing, and supply chain experience; required
Microsoft Office Suite & ERP knowledge - required
Experience with Epicor; preferred
Bachelor's degree in Business or related field; preferred
Ability to analyze technical data, designs, preliminary specifications, manufacturing limitations, supplier facilities, and parts/equipment availability; preferred.
Ready to join a global supplier of precision-engineered solutions for us in manufacturing and testing across markets such as automotive, defense/aerospace, industrial, life sciences, and telecom markets? Interested in the semiconductor industry? Then inTEST Corporation is looking forward to meeting you.
We are searching for the most talented Engineering professional to join our inTEST family as a Director of Engineering headquartered at our Mount Laurel, NJ facility and reporting to our Divisional Vice President/General Manager. This critical role supports the EMS business which is housed in the Electronic Test division. This division is on a trajectory of growth and provides an opportunity to support a global organization.
Job Summary:
You as the Director of Engineering will be a hands-on technical leader responsible for leading the Engineering organization for inTEST EMS which will entail developing innovative solutions for the semiconductor ATE [Automated Test Equipment] market with a focus on docking, interface, and manipulator products.
Supervisory Responsibilities:
• This position will directly supervise, coach, and mentor approximately 12 team members
In this role, you will:
• Lead, manage, and build a world-class, technically diverse, high-performing team by monitoring results, coaching, counseling, and providing direction as necessary.
• Actively participate in the performance management process inclusive of goals and objectives and individualized development plans
• Provide agile leadership to adjust and manage schedules, prioritize project planning based upon customer requirements and manufacturing needs
• Serve as a key member of the business unit's senior leadership team
• Deliver technical support [remote or onsite] to customers of new and existing products
• Establish and direct the implementation of engineering and documentation standards and procedures, including document control and reproduction procedures. This includes the ownership of engineering IT systems [CAD, PDM, etc.]
• Work with sales and marketing on the creation and maintenance of a market driven product roadmap.
• Partners with marketing regarding sales presentations, catalogs, and general advertising literature.
• Define and implement metrics to monitor and enhance the performance on the engineering organization.
• Responsible for management of the inTEST EMS Intellectual Property portfolio including patents and trademarks.
• Involvement in M&A as a technical knowledge evaluator as required.
• Must be willing to travel 10-15%, potentially more as acquisitions continue
• Perform other related duties as assigned.
Required Skills/Abilities:
• Minimum 10 years' experience in a semiconductor test environment with strong knowledge of ATE solutions including, but not limited to:
o Understanding of tester instrumentation and required transmission line design requirements. Knowledge of printed circuit board design and manufacturing.
o Foundational understanding of transmission line design and characterization in areas including RF, parametric, digital/analog, and high current/high voltage applications.
o Knowledgeable regarding tester/prober and tester/handler applications
• Equipment automation knowledge with an understanding of Industry 4.0 preferred
• Minimum 5 years' management experience required, preferably in a manufacturing setting
• Phase Gate product development process experience preferred
• Bachelor's degree in Engineering, Physics or related field or a combination of education and/or experience
• Solid project management skills required
What can we offer you?
This is an exempt position which offers a competitive salary and benefits package including medical, dental, vision, matching 401K, FSA/HSA, paid vacation, holiday. In addition, you will enjoy development and advancement opportunities, meaningful work relationships and more. Salary will be commensurate with your experience, among other factors. Role can be located in Mount Laurel, New Jersey or be remote in the Central or Eastern standard time zones in the US.
We look forward to receiving your application.
We are always looking to add more manufacturing capacity. Have any questions about employment? Contact hr@intest-ems.com