LS Series Manipulator
The first fully programmable, automated ATE manipulator
Manage the rapidly changing production environment and achieve the lowest cost of test, converting between probe, final, engineering and service positions with ease. Rapid advancements in semiconductor test technology have resulted in highly efficient test cells, capable of device test throughputs far greater than ever before. While compatible with OEM OPD docking, the automated, repeatable, and robust docking of the intelliDock and LS Series will allow for the highest production efficiencies possible.
Enable an intelligent test cell environment to improve the efficiency of the test floor.
Key Features

Functions in two modes:
Set-up Mode — each degree of motion is independently controlled and programmed by the user via the pendant
Automated — auto position the test head to one of the four previously preset locations

Communication with peripherals prevents damage and downtime

Improve docking repeatability and quality, preventing damage to test hardware and eliminating docking variabilities

Optimize and create predictable production setup repeatability, improving production throughput and reducing errors

Automated motions eliminate the physical jockeying and positioning of large test heads

Enhanced safety with required 2 button push for docking, unit will stop if either the "deadman" or "current direction" buttons are released or until the unit meets resistance


Compatible Testers
The LS Series manipulator has been designed to adapt to most test heads and is available to optimize the weight of your ATE Test Head. The LS Series is equipped to handle between 400 and 800 kg. Supports testers from the following companies, other ATE Test Heads will be investigated as requested.

Teradyne

SPEA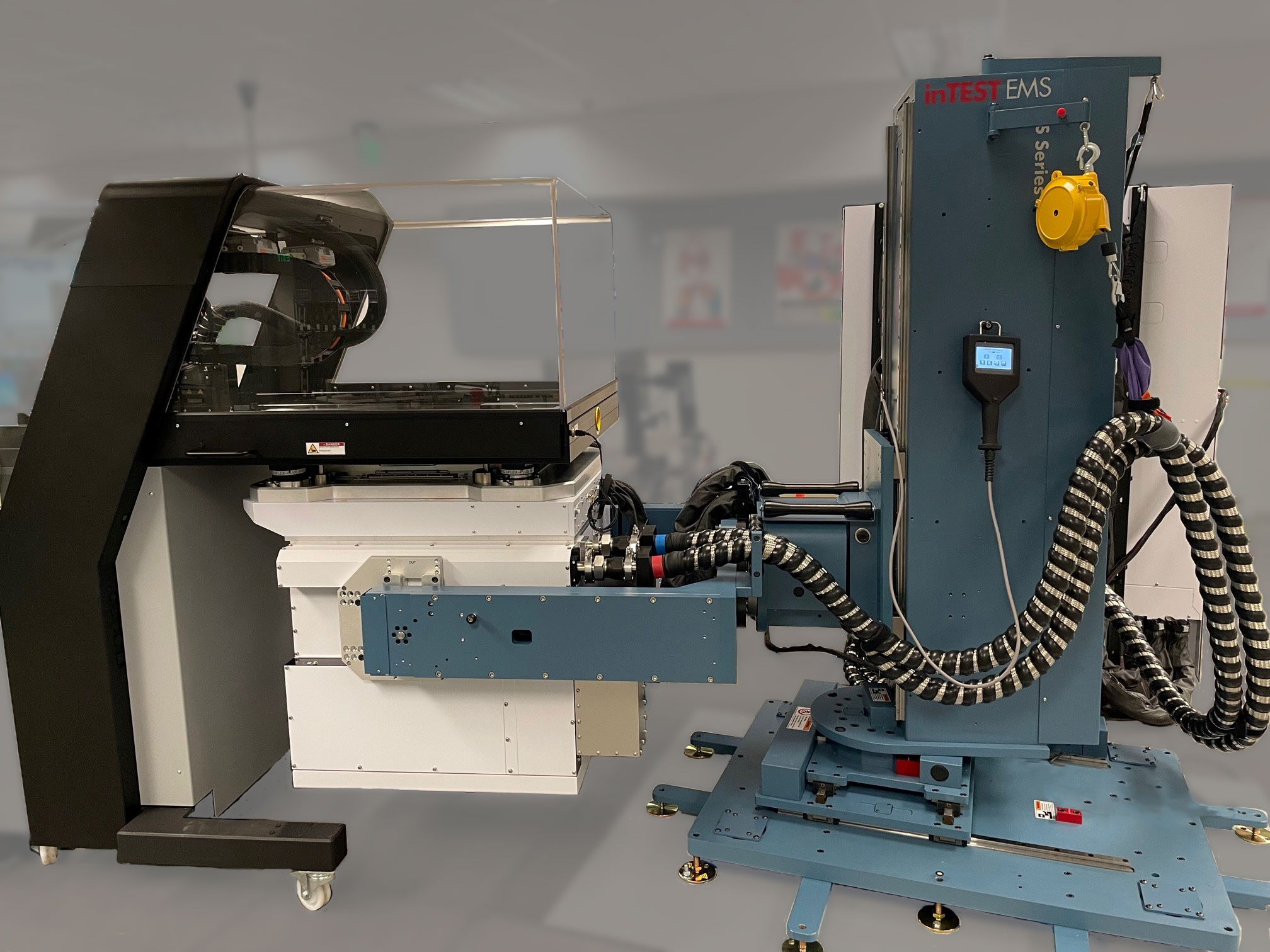 Automated Docking
When paired with the intelliDock hardware, achieve programmable dock capability and have the most complete, interactive test cell solution available. Following initial "teaching" of various peripheral docking and service positions, automated docking can be repeatably executed with the use of a remote pendant.
The LS Series Manipulator handles critical communications between the intelliDock, the tester, and the peripheral, maximizing the safe control of the docking process.
Technical Specifications
Fully programmable, automated manipulator
Example specifications—actual specifications are application specific.
Maximum Load Rating
800 kg (1,764 lbs)
Vertical Travel
1067 mm (42")
Vertical compliance
+/- 25.4 mm (1")
Side – Side Linear / Compliant Motion
406 mm (16")
In-Out Linear / Compliant Motion
152 mm (6")
Swing
190

°

Twist
190

°

Tumble
190

°

Theta (In Cradle)
+/- 64 mm (2.5")