LSP Manipulator
Smallest probe test cell footprint
The LSP mounts to standard prober hinge mounts with easy access to service and engineering locations. This reduces the floor space per test cell, saving you significant capital expenses. And you'll be able to quickly and easily set up your ATE to wafer probe.
When comparing to a universal manipulator, the LSP Manipulator reduces your test cell footprint by up to 24%.
Key Features

Probe Only Manipulator

Motorized and compliant vertical motion for optimal docking

Quickly move from the probe to service/engineering positions

Designed for wafer probe


Compatible Testers
The LSP Manipulator docks directly to probe. Supports testers from the following companies, other ATE Test Heads will be investigated as requested.

Teradyne

Keysight

Cohu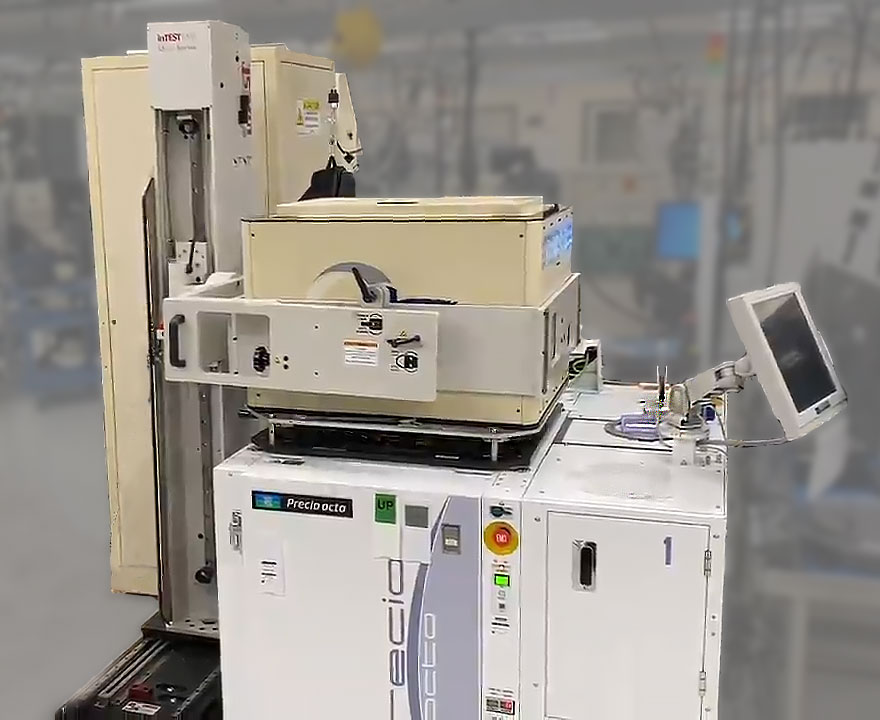 Accurate and repeatable
The LSP integrates easily to inTEST
4CAM
or
intelliDock
hardware and is designed for increased ATE utilization rates, ease of use, and safety. Quickly set up ATE to wafer probe with the LSP to improve your testing efficiency and accuracy.
Technical Specifications
The LSP uses a cable load balancer for effective cable management and minimal floor space.
Example specifications—actual specifications are application specific.
Maximum weight capacity
180 kg. (400 lbs)
Vertical Travel
973mm (38.3")
Vertical Motion
Powered lead screw, pendant supplied
Vertical compliance
30.5mm (1.2") total compliance travel [+/- 15.2mm/0.6"]
Side – Side Linear / Compliant Motion

432mm (17") Front to Rear

Swing
Manual -135

°

Optional inner cradle for 90° test head rotation

Other motions are adequate for aligning and planarizing the test head for docking to the prober